on
January 2, 2015
at
12:01 am
Grymm Ramblings
First off, this is NOT one of those cases of us coming back from hiatus only to completely ditch out on the storyline we were doing before. Kill Your Heroes will resume with the next update.
This was just something to let you know that we're alive and things are slowly clicking back into place.
Most of 2014 was just one huge clusterfuck on my side of things. It's a new year now though and it's time to take strides to get things back in line where our creative ventures are concerned.
As a bonus, here's an alternate take on the above strip: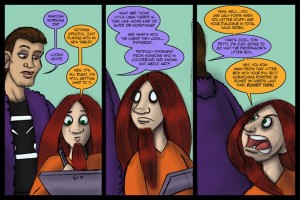 We love you all.